Co-ed dorms were just beginning to be a thing back in the 60's, when John and Mary Ellen were students at the Altoona Campus of Penn State University. Co-ed was what the dorm was called when the men's wing and the women's wing were separated only by a common lounge. It was in that lounge that John first spotted "lovely" (John's word) Mary Ellen, and boldly introduced himself to her. John says Mary Ellen needed his help with chemistry—his field of expertise. Mary Ellen says John needed her help in German, a language quite familiar to her. But both still admit that they appreciated the help from the other and their relationship soon blossomed into a romance that is still blooming, and a marriage that has lasted over 53 years.
Mary Ellen grew up near Lebanon, Pennsylvania. In her early years, Mary Ellen's father ran a small farm while working for Bethlehem Steel. He was part of a large family and his father had a large dairy farm nearby. Mary Ellen remembers always having extended family in her everyday life, and that church was a regular part of all their lives.
John grew up in the rural town of Beavertown, Pennsylvania, where it was easy to spend days at a time outdoors. He remembers doing just that with his younger brother. Hunting (including firearm safety) and fishing with his father and uncles shaped John's life-long values. He also became very fond of race cars and racing and continues those interests still. Early on, John decided he wanted to be a chemist and he was in sophomore year preparing for that when he met Mary Ellen.


" It didn't take long for Mary Ellen to realize that John was "the one" and for John to realize he was in love. "
Mary Ellen was a freshman and was studying medical technology. She had not dated much in high school, considering herself pretty much a wallflower, and she now realized that she very much liked the attention John was giving her. She was also pleased to discover that he had grown up in a rural setting as she had, and like her, appreciated the outdoors. Music was another thing they had in common. It had always been a part of Mary Ellen's family life. She had sung in her high school chorus as well as church choir, and had taken piano lessons. Now she was happy to discover that John played the trumpet and enjoyed music as much as she.
It didn't take long for Mary Ellen to realize that John was "the one" and for John to realize he was in love. It seemed logical to them that marriage should follow soon, so they each began to talk the idea up to their parents. The following summer they spent time visiting each other's family. In the fall of the next school year they were engaged, and married a year after that on December 21, 1968. Mary Ellen was a junior and John was a senior.
One thing that John remembers about their wedding day is his youngest brother telling him before the ceremony, "It's not too late you know!" But that didn't stop him from moving forward. What Mary Ellen and John both find remarkable is that they spent their honeymoon in the Poconos—not knowing then that would be the place they would call home for the majority of their married years. Mary Ellen says she remembers that it snowed on their wedding day and many people didn't come because of that or because they had the flu. "But," she says, "my favorite thing was that while we were taking our vows at the altar, a ray of sun broke through the clouds and shone through the church's stained-glass window, directly onto us." She likes to think that it was God's blessing on their marriage.


" I accepted Jesus as my Savior one Sunday in 1980 and still love Him and worship Him faithfully in that same church. "
John went on to graduate school at Lehigh University in Bethlehem, Pennsylvania. Mary Ellen was hired at Easton Hospital in 1970 and worked in the lab there for about 19 years, including supervising the chemistry department for the second half of her years there. When John finished grad school, he worked for Roche Vitamins and Chemicals, J. T. Baker Chemicals, and in 1993 he formed his own consulting business, Delta Quality Systems, Inc., which he still maintains.
A few years into their marriage, Mary Ellen became pregnant. She gave birth to John Daniel in July of 1972 but sadly their son died at birth. Both Mary Ellen and John said this was a very difficult time for each of them and definitely the worst crisis they had faced together. John adds, "We didn't have a personal relationship with Christ, so we didn't have Him for support."
However, both John and Mary Ellen moved on, pouring themselves into their work during the week and partying with their co-workers on the weekend. Mary Ellen soon began to be uncomfortable with this life style. Her thoughts turned toward church and the God she had learned about as a child. By this time, the couple had bought an old country stone home in the Poconos and there was a church less than two miles from it.


" It may have been love at first sight, but as Mary Ellen recalls, adoption was not easy to navigate. "
Mary Ellen began to attend. She says, "There, I began hearing how Jesus went to the cross for me, because He loved me and wanted to cleanse me from my sins. I realized that I was a sinner and needed forgiveness. Even though I had heard that Jesus was the Lamb of God when I was growing up, I didn't understand what that meant. Now my eyes were opened to the understanding that Jesus was MY sacrificial Lamb. I accepted Jesus as my Savior one Sunday in 1980 and still love Him and worship Him faithfully in that same church."
Mary Ellen made some changes in how she lived after that. She attended church every Sunday as well as Wednesday night Bible studies. She read her Bible daily. She recalls that she felt like she had returned home to the truths she had learned as a child. John, however, was not liking these changes. He had been raised by his mother and grandmother as a Jehovah's Witness but had not been actively involved with that group for years. Mary Ellen had many conversations about her new faith, in which she tried to convince him to put his faith in Jesus as she had done. Most times their conversations ended with both of them angry.
However, as Mary Ellen grew in her faith, she realized that God didn't want her to argue with John, nor try to change him. Instead, she should simply love him. As she did, John began to accept her changed life as a Christian. Eventually, although Mary Ellen would wait another 23 years, John, too, would receive Christ as his Savior.
Another controversial topic in their marriage became having children. Mary Ellen wanted them, but John was afraid of a similar outcome as the first pregnancy, and was also fearful that Mary Ellen would have another very difficult labor. All their conversations usually ended up with saying, "Let's wait."


" God went deep into my soul to painfully reveal to me that I had made having children an idol. "
Meanwhile, Mary Ellen's church had begun caring for a homeless single mother and her young daughter, Tiffany. Mary Ellen and John played an integral part in that, bringing the mom and Tiffany into their home. Years later, they became foster parents for Tiffany. That in itself is quite a story; but both John and Mary Ellen realized that they had learned to love Tiffany as their own child. God used their relationship with Tiffany to move their hearts toward building a family through adoption.
When Mary Ellen was 39 and John 40, they decided to apply to an adoption agency. Because of their ages, they were told they could not adopt infants. John remembers that the adoption process took a long time—two years actually. Finally in the fall of 1988, Misty, age ten, and Bill, age eight, who were biological siblings, officially became Bingman children. John says they first met Misty and Bill at the Toledo, Ohio airport near where they were in foster care at the time. The kids were standing at the bottom of the escalator, and they all recognized each other from photographs. He says it was love at first sight.
It may have been love at first sight, but as Mary Ellen recalls, adoption was not easy to navigate. Although a case worker from the adoption agency helped through the first year, Mary Ellen thinks that both she and John as well as the children had some unrealistic expectations. Mary Ellen and John thought the kids would want to become more like them. The kids thought their forever home would mean they could do whatever they wanted, no rules. Even though there were many fun times, they also butted heads quite frequently. John insisted the children go to church with Mary Ellen, even though he was still not a believer. Both children received some Christian counseling.
The teen years were very hard. The children were struggling to feel they belonged to the Bingman family, especially Misty. She still believed that home was where her biological family was. Her earliest memories were with them. After much consideration, John and Mary Ellen finally agreed that the children could visit their biological father and other relatives for a few days.


" But God always proves to be a redeemer of misused time. "
Mary Ellen describes her feelings while they were away. "I was very fearful that they would want to stay in Ohio and leave us. I was so afraid of losing them. God went deep into my soul to painfully reveal to me that I had made having children an idol. That even if they rejected us as their parents, God was still sufficient to meet all my needs. My life verse became Psalm 73:26: 'My flesh and my heart may fail, but God is the strength of my heart and my portion forever.'"
When the children returned, Misty had arrived at the realization that her home was not back in Ohio. Bill was angry. John and Mary Ellen were thankful that they had allowed them to visit, because now the children seemed to have a better perspective of the situation. Misty would be in her early 30's however, before she would say John and Mary Ellen were and always would be her parents. Bill was 40 when after a near death experience, he finally stopped being angry about his past and started enjoying the relationship with his parents.
Through the years, God intervened in a crisis pregnancy for Misty, performed a true miracle to save Bill's life, and helped them through many other ups and downs. They never formally adopted Tiffany, but she has become their daughter. They have good relationships with their children and their families, including six grandchildren and one great granddaughter.
Mary Ellen stopped working at Easton Hospital when she and John adopted the children. However, that was not to be the end of her professional career. Shortly after, the director of the local Crisis Pregnancy Center spoke at her church. Mary Ellen decided to volunteer there. About a year later, the Center needed a new part time Executive Director, so she applied and was hired. She served in that position for 21 years and though she retired a decade ago, she continues to serve the Center as a volunteer.
John regrets that he never went to church with his family, and he believes it negatively impacted the children's spiritual lives. But God always proves to be a redeemer of misused time. In 2002 while John was alone on a business trip and staying at a Hampton Inn, God visited him there. John was aware that Mary Ellen never tired of praying for his salvation and always reminded her church family to pray as well. That night he had just started reading the first verses of John chapter one, when God's booming voice asked him, "Do you get it now?"


" It is essential to be able to treat your spouse's needs with as much or more urgency than your own. "
He remembers quietly and humbly answering, "Yes Lord. I do get it now!" John's faith in Christ has changed his life in significant ways. He has served as an Elder, Deacon and Service Leader at that same church where Mary Ellen had been born again, right down the road from their house. Sharing his musical gift along with Mary Ellen has also blessed their congregation. Most of all, being able to pray and worship with Mary Ellen is a wonderful benefit of faith, John says. Mary Ellen has been blessed to see John use his leadership skills to serve God in the church. More recently, she has noticed that God has developed a gift of encouragement to others in him that she hadn't seen before.
And now when trials come their way, they look to God together. In the past few years, John has endured some significant health issues. On a business trip, once again at a Hampton Inn, he suffered the first of two aortic dissections and had to be life flighted to the University of Cleveland Hospital in Ohio. He says, "I felt absolutely no fear, in fact, I felt only an awesome peace. I was literally being held and carried by the hand of God!"
Because of the aortic dissections as well as bladder cancer, John has undergone numerous surgeries and cancer treatments. Recently he was pronounced free of cancer. John finds it interesting that just before all these medical troubles began, he and Mary Ellen celebrated their 50th anniversary by renewing their wedding vows. He adds, "'In sickness and in health,' can be, as Mary Ellen found out, a huge commitment."
And recently, after 47 years of living in their beautiful stone home, they moved to a two-bedroom carriage house where, as John puts it, "We don't even have to change our own light bulbs." Mary Ellen says it was necessary to downsize for various reasons. But the change has been tough for John, and he believes that he was an impediment to the moving process. "I feel like we are adjusting now, primarily because of all of Mary Ellen's hard work and patience."
For the Bingmans, as for any other married couple, crises, disagreements, and problems have often been present in their marriage. But they believe that marriage is to last until death parts them. Hard times are only a part. There is long lasting joy in keeping the vows made to one another, appreciating the commitment of the other, and experiencing a love that never stops growing.
Both John and Mary Ellen believe good communication, respect for your spouse, humility, and grace are all necessary for a successful marriage. "Be gentle and forgiving," Mary Ellen says. John adds, "It is essential to be able to treat your spouse's needs with as much or more urgency than your own."
These are all important, but even more so is that both a husband and wife first need to commit to Jesus Christ. Both partners knowing and loving Him makes all the difference. John and Mary Ellen can both testify to that. John sums it up well: "Share a love for each other, but also a love of God before you take those marriage vows. Remember, these vows are not only to your spouse, but also to God!"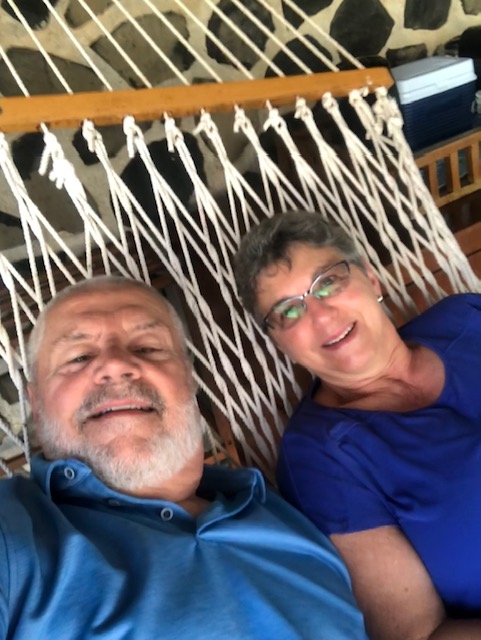 John and Mary Ellen after 50 years of marriage.